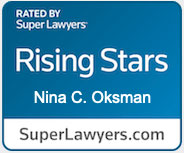 Nina C. Oksman joined Ween & Kozek as an Associate in 2015. Ms. Oksman focuses her practice primarily on housing, tenants' rights and the Loft Law.
Before joining Ween & Kozek, Ms. Oksman gained valuable landlord/tenant litigation experience and insight at a firm representing landlords. In joining Ween & Kozek, she found her way back to her roots, representing and advocating on behalf of tenants and artists. She previously worked as an associate for a boutique foreclosure defense firm in Brooklyn and as a law clerk for Judge Alex Calabrese at the Red Hook Community Justice Center, a multi-jurisdictional, "problem solving" courthouse serving the Red Hook neighborhood of Brooklyn. During her clerkship, she conferenced housing court cases with NYCHA tenants, participated in all aspects of cases with at-risk youth and drug court defendants, and contributed to a published decision about evidentiary issues relating to SCRAM ankle monitors.
Ms. Oksman handles all types of pre-trial and trial litigation from initiation to disposition, and has appeared and argued motions in courts and administrative venues throughout the five boroughs and the greater New York City area.
Ms. Oksman has shown a meaningful commitment to social justice—working with the Volunteer Lawyers Project of the Brooklyn Bar Association, representing clients at risk of losing their homes during the foreclosure crisis, and supporting artists and art-related non-profit organizations with their legal needs through Volunteer Lawyers for the Arts. She has also served as a legal fellow with the Legal Aid Society where she advocated on behalf of indigent defendants in criminal matters.
Ms. Oksman graduated Brooklyn Law School. During law school, she earned the Brooklyn Law School Public Service Award and contributed research to the article The Changing Shape of Federal Pretrial Practice: The Disparate Impact on Civil Rights and Employment Discrimination Cases, 158 U. Pa. L. Rev. 517 by Professor Elizabeth Schneider. She received a Bachelor of Arts in the Liberal Arts at SUNY Purchase College where she was a Presidential Scholar and on the Dean's List. At SUNY Purchase, she "made up a major" encompassing Philosophy, Women's Studies, and Photography.
Ms. Oksman is a lifelong New Yorker, born and raised in the New York City area, and currently living in Brooklyn. She regularly volunteers at the free legal clinics at Housing Conservation Coordinators and the office of New York City Council Member Erik Bottcher fielding questions on housing-related legal issues. When not hard at work, Ms. Oksman enjoys road trips, photography, and discovering new neighborhoods by bike.
NOTABLE CASES:
In the Matter of the Administrative Appeal of Workable 239 LLC

, Loft Bd. Order No. 5031 (February 18, 2021) (affirming denial of owner's code compliance deadline extension application where owner failed to show good faith efforts to meet code compliance deadlines; declining to consider additional documentation only submitted on appeal).

Raffelo v. Thompson Assets, LLC

, 188 AD3d 545, 132 NYS3d 612 (1st Dept, 2020) (affirming denial of amendment of answer to assert "first rent" theory as a basis for establishing the legal regulated base rent for a rent stabilized apartment).

Matter of Bozeman

, Loft Bd. Order No. 4987 (Jun. 18, 2020) (only person in occupancy of a Loft Law unit may sell the rights; Loft Law rights may not be waived in a lease). 

Matter of Knudsen

, Loft Bd. Order No. 4973 (Apr. 23, 2020) (tenant may not waive Loft Law rights by signing a lease; immigation status is irrelevant to determining protected tenant status).

Stahl and Stahl, LLC v. Judith Rudnick Kane,

Unreported, Civ. Ct., NY Co., Housing Part F, Index No. 71251/15 (Hon. Frances Ortiz, Feb. 20, 2020) (affidavit from someone with personal knowledge necessary to explain

inter alia,

excuse for the delay to restore to housing court after discovery was complete and lack of intent to abandon proceeding, when seeking to restore proceeding after long delay which was marked off calendar for discovery). 

William 165, LLC v. Sero-Boim and Kurylo, Unreported, Civ. Ct., NY Co., Housing Part F, Index No. 52496/16 (Hon. Frances Ortiz, Feb. 7, 2020) (denial of owner's motion to compel documents sought during deposition of tenant where prior motion seeking disclosure granted deposition but denied production of documents).
Thompson Assets, LLC v Raffelo and Hannah, Unreported, Civ. Ct., NY Co., Housing Part C, Index No. 77194/16 (Hon. Clifton A. Nembhard, Dec. 5, 2019) (granting tenants attorneys fees and setting the proceeding down for an attorneys' fee hearing as to additional amount due).
PB 165 William Street Holdings LLC v. Sero-Boim and Kurylo, 2019 WL 362682, 2019 N.Y. Slip Op. 50132 (U) (App. Term, 1st Dep't, 2019) (rare case accepting theory that occupants may have become rent stabilized through landlord's waiver. The Court reversed the lower court's dismissal of tenant's waiver defense, finding that landlord's acceptance of tenant's rent for years, giving of rent credits and issuance of rent invoices, and tenant's performance of improvements with consent, and direct dealings with landlord for maintenance, rent and repair issues, created an issue of fact about whether the landlord had waived its right to object to occupants' occupancy and status as rent stabilized tenants).

388 Broadway Owners, LLC v. Megee

, 2019 WL 5212867, 2019 N.Y. Slip Op. 33074 (U) (Sup. Ct., NY Co., 2019) (where no personal guarantee existed in writing for individual, no personal liability exists for individual for alleged rent due for commercial tenant; partial payments of rent on a month to month tenancy apply to first debts in priority of time and will not toll the statute of limitations for all months of past rent allegedly due).

Raffelo v. Thompson Assets, LLC

, 2019 WL 5067939, 2019 N.Y. Slip Op. 32979 (U) (Sup. Ct., NY Co., 2019) (collateral estoppel bars amendment of answer to assert deregulation of premises based on "first rent" theory).

American Package Company, Inc. v. Benjamin Gleitzman, Unreported, Civ. Ct., Kings Co., Housing Part E, Index No. 96702/16 (Hon. Thomas M. Fitzpatrick, Feb. 15, 2017) (in holdover eviction proceeding commenced on the basis that no lease existed between landlord and tenant because tenant did not pay full security or rent under the lease, court dismisses proceeding finding tenant has an enforceable contract where there is no dispute tenant signed the lease, landlord delivered it to tenant fully executed, and respondent was already in possession of the premises).
Wang & Associates, LLC v. Location, Location, Location, 2016 WL 6561318, (Civ. Ct., NY Co., Housing Part, July 21, 2016) (dismissing nonpayment eviction proceeding with prejudice on the grounds that the building lacks a certificate of occupancy as required by the Multiple Dwelling Law).
Areas of Practice
Landlord - Tenant Law
Loft Law
Foreclosure Defense
Criminal Law
Contract Law
Employment Law
Intellectual Property
Art Law
Media Law
Negligence
Education
Juris Doctor, Brooklyn Law School

International Law Program, Università degli Studi di Bologna, Italy

Bachelor of Arts in the Liberal Arts, Women's Studies, Philosophy and Photography, SUNY Purchase College

International Study Program, Universitat de Barcelona, Spain
Professional Associations & Memberships
New York County Lawyers' Association
Honors & Publications
Brooklyn Law School Public Service Award
Brooklyn Law School Graduates' Public Service Fellowship, Legal Aid Society Brooklyn Criminal Defense Practice